WE HONOR MARY ENGELBREIT AND L. MARIA CHILD DURING THIS YEAR'S WOMEN'S HISTORY MONTH: TWO WHITE ALLIES IN SEPARATE CENTURIES, BOTH FIGHTING FOR SOCIAL JUSTICE
Popular illustrator Mary Engelbreit's work began to inspire and give me hope in the 1990s. Her images along with her words of wisdom brought needed encouragement to my life. In those years, I especially struggled with how best to live out my calling and vocation as a minister. Her book, Don't Look Back, provided almost 45 pages of heartwarming messages that fed by soul. Her words encouraged me to move forward with the new decisions in my life and not look back. I bravely set forth as a community minister working in nonprofits for over 20 years. This took the form of prison work, political advocacy for women and girls, and interfaith services to ex-offenders returning to society.
Engelbreit's messages also encouraged my dreams of becoming a scholar. I entered my
doctoral program in summer 1995. I studied Religion and Social Change in the University of Denver/Iliff School of Theology's Joint PhD Program. One of my early courses introduced me to the phenomenal Lydia Maria Child (1802-1880), one of the most well-known U.S. authors and activists of her century. I could not believe the power of her literary voice within popular culture as well as in her reformist actions. Her nineteenth-century example inspires me deeply in the twentieth and twenty-first centuries to move forward with the power of my own literary voice.
I recently became aware of some significant commonalities between Engelbreit and Child. Both developed powerful fan bases with their popular writing. For each of them, when they felt called, their words and images expanded to the fight against racism and injustices in the United States. I commend them for their courage to speak up and out despite resistance from a "fickle public," as Child put it. Each of them faced losses of income and popular support once they went public with their antiracist work. Those deprivations, though, did not stop them. They moved beyond popular support to do the right thing.
L. Maria Child: Boldness in Print
Maria Child converted to reforms in the early 1830s. The unjust and horrific enslavement of black men, women, and children became her first cause and the one that engaged her time and attentions for decades. By this point, Maria had achieved the status as one of the most popular writers in the United States. Her conscience took her and her writing beyond these comfortable confines into the public realm of politics. She chose to research, write, and publish the first economic and political examination of slavery from a U.S. perspective, An Appeal in Favor of That Class of Americans Called Africans (1832).
An Appeal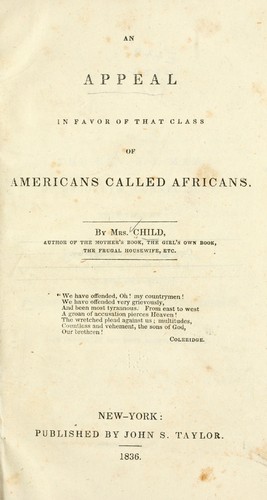 This work guided many to the noble cause of abolitionism, the fight to end slavery. At the same time, she paid dearly for daring to move into the political realm with such pressing issues. It was so unladylike! According to biographer Carolyn Karcher, the publication of this work moved her to the front lines of the abolitionist movement, "elevating her to a position of unparalleled political influence for a woman" (192).
Maria's eight chapters in this 230-page treatise provided an historical grounding to slavery while also placing it in the worldwide context. Fellow abolitionist Thomas Wentworth Higginson described The Appeal's tone as "calm and strong, the treatment systematic, the points well put, the statements well guarded" (123). Of special note is Maria's skillful and crucial use of history as her ally throughout this work. Since slavery advocates turned to their version of recorded history to justify their actions and ideology, Maria turned to expanded sources to blast those arguments.
Reactions to Her Message
She paid a high price for this barrier-breaking as well as for her abolitionist leanings and actions. On the most benign end, she received negative reviews. Certain ministers severely chided her for neglecting domestic duties. The loss of supportive relationships with family members and friends proved more costly. She was professionally blacklisted and sustained substantial financial losses. She sacrificed her rising notoriety as a successful, popular writer in the North and South regions of the United States.
In her home city of Boston, Massachusetts, community leaders, former admirers, literally slammed doors in her face and enforced a policy of ostracism toward others who violated the ban against her. Readers boycotted her writings. In the South, booksellers went to the extreme of sending back her books unsold. The backlash also severely affected her Northern market. Parents canceled their subscriptions to her children's magazine. Readers boycotted her two self help books, her primary bread winners.
Maria's Steadfastness in Times of Turmoil
To her great credit, Maria prepared herself for the sacrifices she would make with the publication of her treatise. In An Appeal's preface, she declared:
I am fully aware of the unpopularity of the task I have undertaken; but though I expect ridicule and censure, it is not in my nature to fear them. . . . Should it be the means of advancing, even one single hour, the inevitable progress of truth and justice, I would not exchange the consciousness for all Rothchild's wealth, or Sir Walter's fame (iv).
She ended the book with these words:
By publishing this book I have put my mite into the treasury. The expectation of displeasing all classes has not been unaccompanied by pain. But it has been strongly impressed upon my mind that it was a duty to fulfill this task; and worldly consideration should never stifle the voice of conscience (216, emphases added).
Even more importantly, despite the ostracism Maria experienced from a conservative, fickle public, she found a willing and able audience with reformers and other like-minded people. She recollected this positive aspect of the banishment in an 1869 letter to fellow abolitionist Samuel May: "With regard to society I was a gainer very decidedly, for though the respectable, who had condescended to patronize me, forthwith sent me to 'Coventry,' antislavery introduced me to the noblest and best of the land, intellectually and morally, and knit us together in that firm friendship which grows out of sympathy in a good but unpopular cause." She moved forward confidently and courageously into the world of reforms and remained there for five decades.
… STAY TUNED FOR THE FINAL SECTION ON MARY ENGELBREIT! COMING SOON.
TA 4-22-17